Caring colleagues at First4Lawyers help Huddersfield food bank support families in crisis
Struggling families in Huddersfield will be able to put food on the table this new year thanks to a donation from First4Lawyers.
The Kirklees company has handed over £1,000 to The Welcome Centre following a Christmas collection by staff, which bosses then topped up to match the amount the business gave to its local food bank this time last year.

The charity, which helps those in crisis with food and essential items as well as practical and emotional support, says the money will enable it to feed 19 families for a week.

This is the third year that First4Lawyers has given its support to The Welcome Centre, one of the largest food banks in the north of England.

In 2019, colleagues took part in a 'reverse advent calendar' collection where everyone brought in a new food item every day during December. Last year, the firm also donated £1,000 at Christmas plus a further £500 to mark the launch of its industry white paper.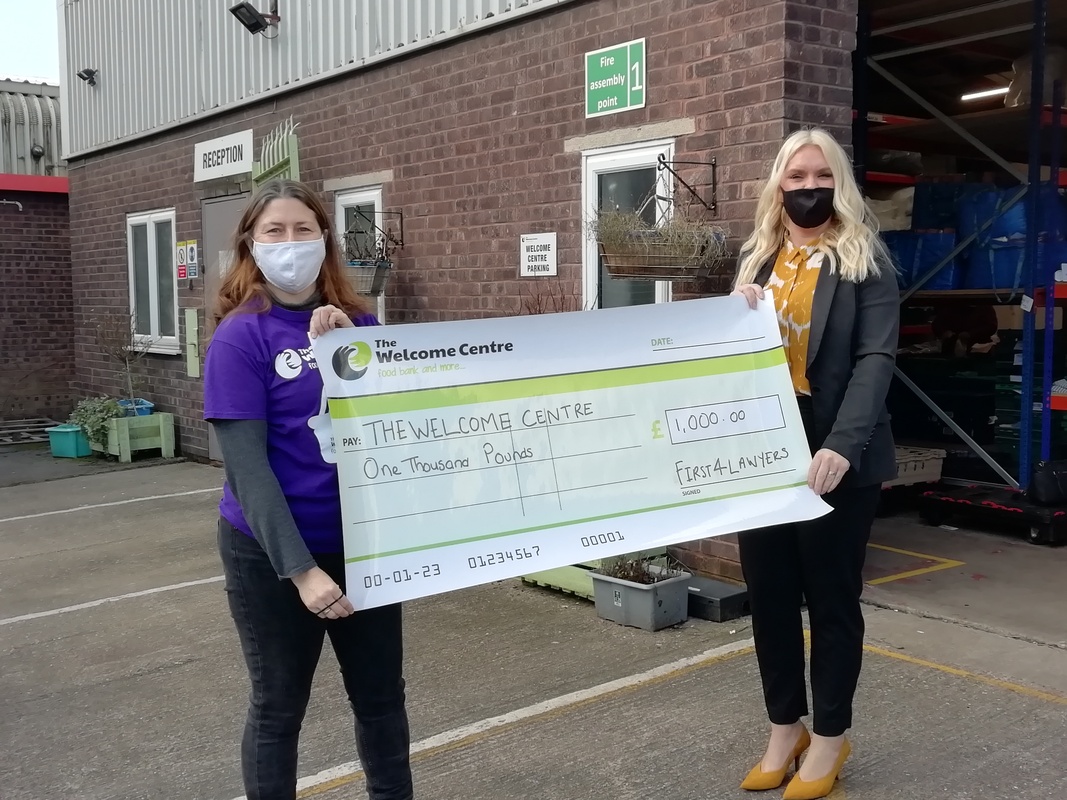 Emma Greenough, fundraising manager at The Welcome Centre, said:
At present we are supporting more families than ever before, and this donation will help us to provide 19 families with food for a week. Demand for our service has risen over the last few months, as people are struggling to make their income stretch due to increased fuel and utility costs, the reduction in universal credit and the increase in food costs.
2022 is already looking to be our busiest year yet and so the renewed support of businesses like First4Lawyers makes a real difference to our charity.
Andy Cullwick, head of marketing at First4Lawyers, added:
The Welcome Centre is a lifeline for so many people in our community and that's why we are proud to support them once again. Huddersfield has been the home of First4Lawyers and the home of many of our staff for a long time now. While we may not have spent much time in the office over the last 12 months, I do hope this gesture reflects our ongoing commitment to the town.
For further information, please contact: Sue Carr, Black Letter Communications 020 35671208 [email protected]
About First4Lawyers
For 14 years, First4Lawyers has been the driving force behind successful personal injury and clinical negligence law firms. Operating as a genuine marketing collective, the firm's exacting standards consistently deliver quality claimants to its panel member law firms. High-impact marketing campaigns, including a hugely successful TV campaign, a vigorous approach to vetting and customer service, delivered by an expert customer team, and a guiding principle to deliver a truly ethical and effective service for claimants seeking access to justice, ensures First4Lawyers is the most trusted brand in the claims market.
The company is a seven-time winner of the Claims Management Company of the Year at the prestigious Personal Injury Awards, and a double-winner at the Modern Claims Awards in the Claims Management Firm of the Year and Claims Management Team of the Year categories. The company operates a zero-tolerance policy on fraud.
www.first4lawyers.com https://jointhepanel.first4lawyers.com/