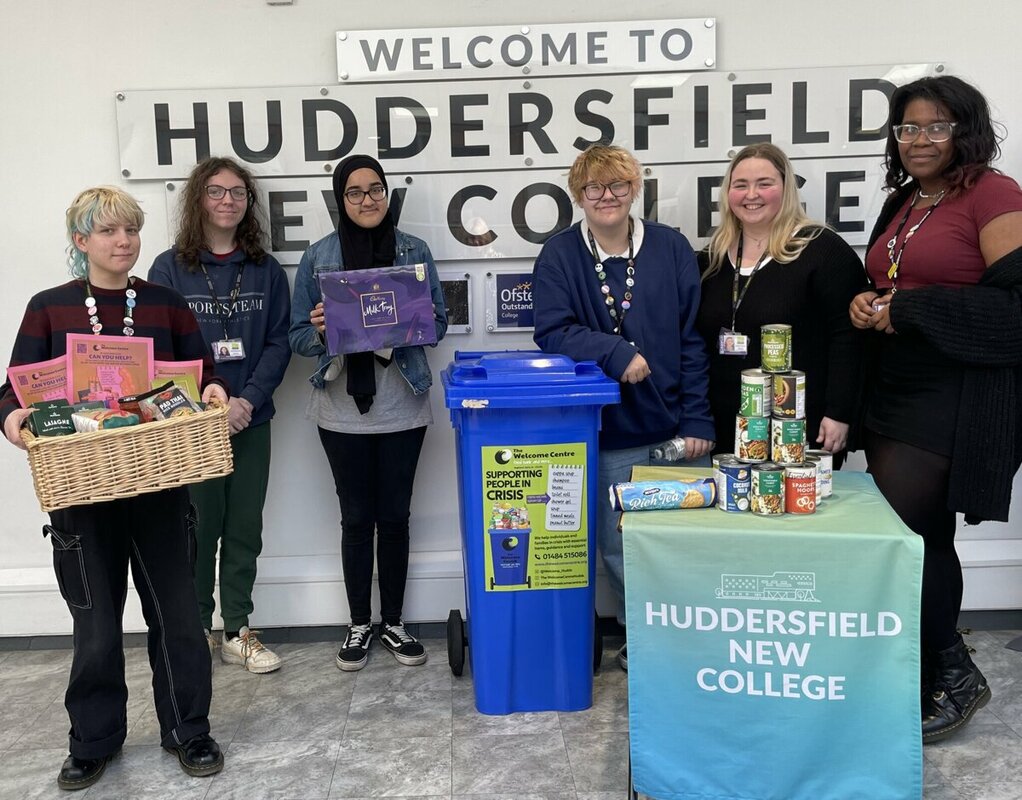 Huddersfield New College is delighted to reveal that collectively, the College has raised over £400 for the local food bank and HNC Charity of the Year, The Welcome Centre.
As well as raising this fantastic cash donation, staff and students have also come together to donate an impressive amount of food, helping to ensure that The Welcome Centre have the items needed to support local families during this cost of living crisis.
Student Volunteers from across the College have worked together to raise awareness and funds for the Welcome Centre since the beginning of the academic year, when the student body voted for our local food bank to become our Charity of the Year. HNC Applied Business students this year raised money via the 'One World' event, selling hand-made gifts and running competitions across the College Campus. Other fundraising events included the 'Love Has No Labels' event run during LGBTQ+ month and several 'bring a tin' drives.
Erika Montgomery, Direct of Equality and Diversity, comments
Our College community has, as always, pulled together to support the local community. Our fundraising efforts for The Welcome Centre, our local food bank, have helped the charity to further support vulnerable families in Kirklees during this cost of living crisis, and as well as collecting a huge array of much needed items, we are also able to donate almost £500 to this very worthy cause. There are a range of ways in which our students can volunteer their time here at HNC. Not only is this a chance for students to give back to their local community, it is also a fantastic way for our young people to build essential life and employability skills that will support their progression beyond HNC. I am very proud of our community and the great work they have achieved.
Students at HNC can opt to volunteer in a variety of ways, from signing up as a Student Diversity Champion to volunteering their time with local organisations as part of their study programme commitments. Students wanting to sign up to volunteer through our enrichment programme can do so via Moodle.