Skip to main content
Dear Friend,
Since our last newsletter, we've had another very busy month at The Welcome Centre.
In April, we saw our busiest month on record, supporting 1,114 people with 1,683 crisis packs of food and toiletries. Since the beginning of May, these unprecedented levels of need have gradually reduced, and we are now providing support at levels that we would expect to see at this time of year. Unfortunately though, early indications are that the economic impact of Coronavirus will be with us long term, so we do expect, and are prepared for, levels of need increasing again over the coming months.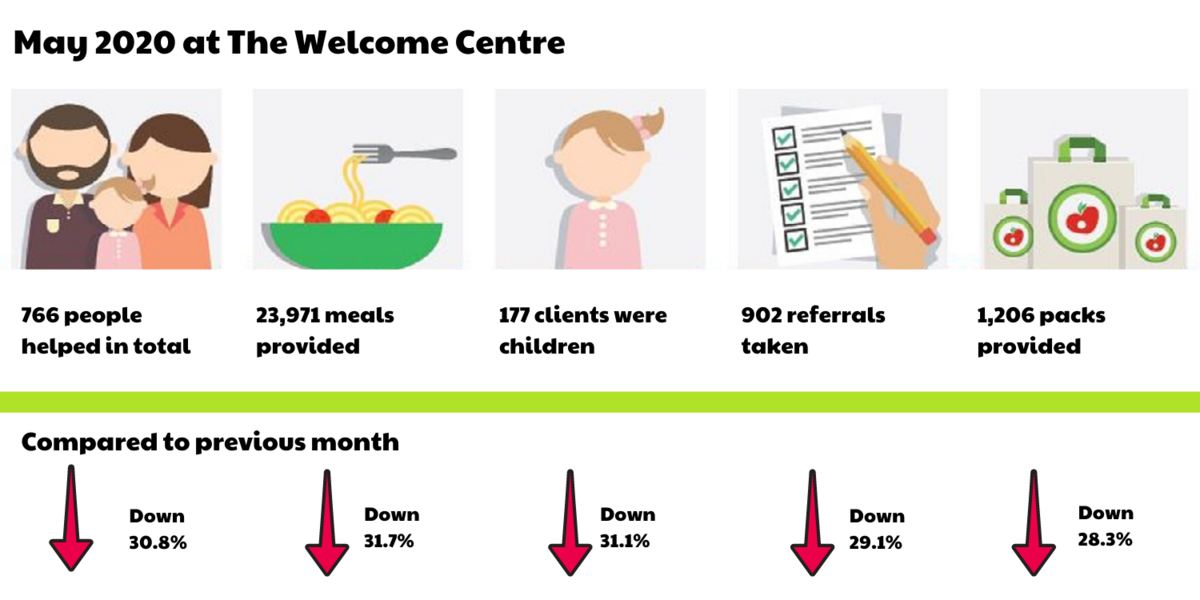 Over the last month, we've continued to be busy behind the scenes at the Centre, planning for what comes next as the situation evolves. Our focus has been to make sure our premises and operations are as safe as possible, in line with the latest government advice. This helps us keep our staff and volunteers safe right now, and means that as we move towards being able to reopen to the public in the future, we can do so with confidence that we've created a safe environment for everyone. Just this week, we've been able to reopen our warehouse for donations, with confidence that we've put the necessary measures in place to keep people safe. Unfortunately, we're not yet in a position to reopen Lord Street to the public, and won't do so until we are confident that we can reopen safely.

In the meantime, we're continuing to work closely with the Council and Kirklees Neighbourhood Housing, who are providing vans and drivers to deliver our food packs to clients homes. This support has been invaluable to us throughout lockdown and has enabled us to continue to deliver our service safely in these difficult times when it hasn't been safe for us to open our premises for clients' to collect their packs. Over time we'll be phasing out this delivery system, and reopening our doors to clients when it's safe to do so, but for now, delivering packs to clients' homes is the safest way for us to work.
Throughout everything, the generosity of the local community has been overwhelming. In the last month alone we've received significant financial and food donations from businesses and community and religious groups including Guru Nanak Gurdwara Sikh Temple, Huddersfield Branch of Unite Union, Towngate PLC and Huddersfield and District 68 Roundtable. And of course, the generosity of individuals donating time, food, and money, has been fantastic as always - thank you.
As lockdown restrictions are eased across the country, we'll continue to adapt our service, and we'll keep you updated on any changes to how the Centre is working. As always, our priorities will be maintaining the safety of staff, volunteers, clients, and supporters, whilst continuing to support our community's most vulnerable with food and other essentials. Thank you all for all of your support so far, we couldn't do it without you.
Ellie Coteau - Chief Executive.