Skip to main content
Another fantastic quiz night held by Sheards Accountants in aid of The Welcome Centre.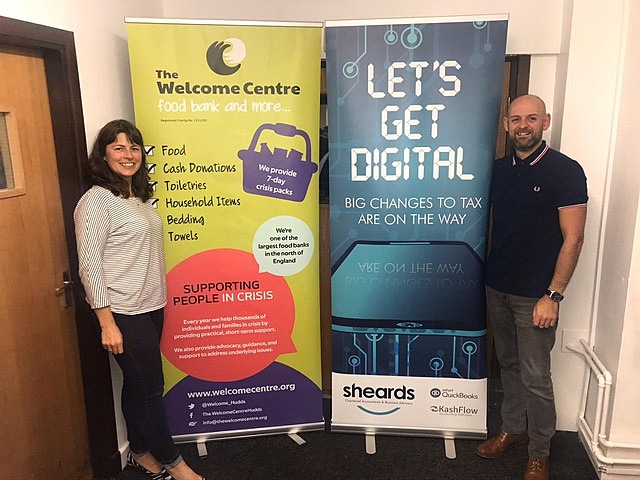 Article from Sheards Blog
Hosted at the Huddersfield Rugby Union Football Club, familiar faces came together once again for a night of charity fun.
Back in August 2018, our team chose The Welcome Centre as our charity of the year, after learning of the demand needed in the local community. As the largest foodbank in the Kirklees area, they provided over 14,000 crisis packs to families last year, of which 9,268 were food packs.
Our quiz night is in the diary every year alongside a number of other charitable events including our curry night which this year raised over £850. This year we also had a team who went and completed the Tough Mudder event which managed to raise £800 mostly through donations of our clients, which was wonderful and so very generous.
With raffle prizes kindly donated from a number of local organisations including Crosland Heath, Copymark Services and P2 Technologies, and with over 80 tickets bought for the night we managed to raise over £700.
This brings the total raised for The Welcome Centre so far to a whopping £3800.00, with our support continuing into 2020 including a fundraising walk covering the three peaks planned for next summer.
The Welcome Centre said:
Last month, Sheards organised a Quiz night to raise funds for The Welcome Centre. We were blown away by the generosity of everyone who supported our cause either by attending the event or donating fundraising prizes. Thanks to Sheards for organising such a great fundraiser, it was a fantastic night and raised more than £700 for the food bank, enough money for us to provide 40 individuals with 7 day food packs."
Kevin Winterburn, Director at Sheards Accountants said of the total raised:
The whole office and even the wider business community really look forward to our annual quiz night. Not only is it a night of good fun, but it's warming to know that it's all for a good cause and we have really enjoyed working with The Welcome Centre this year.
Sheards Accountants is proud to have supported many local charities with fundraising activities over the years. Alongside our fundraisers, we also support a number of charities on an ongoing basis, including Forget Me Not Children's Hospice.