Thinking of supporting The Welcome Centre this Christmas? Here are a few ideas to help you help us.
If you're planning on supporting our food bank in the run-up to Christmas, we want to make sure it's as safe and simple as possible for our supporters, volunteers and staff. Whether you want to donate money, food, toiletries or goods, here's how.

Don't forget between midday 30th November and midday 7th December we are taking part in the Big Give Christmas Challenge where your donations will be doubled until funds run out.
To donate to our Festive 500 project, visit our Big Give page between those dates and you can make your donation work harder.
Making a financial donation
The best way to support The Welcome Centre this Christmas, and all year round is with a financial donation.
You can donate online, via bank transfer, in cash or by cheque, Paypal, Caf, Facebook, Just Giving and Text Donate to name a few ways. To find out how to do this see here for more information
Winter Warmer - Donate your Winter Fuel Allowance
As we enter the winter months, more and more people in our community will have to make a difficult choice. Should I eat or heat?
A choice no one should have to make in 2021, but unfortunately, it's a decision that many people in Kirklees will face. So we're appealing to anyone who receives a Winter Fuel Payment but does not need some, or all of it, to make a donation to our Winter Warmer campaign so that we can continue to support local people in crisis.
I want to donate food not money
Our regular shortages and most needed items are updated each week. However, if you want to add a few festive treats this year, then please donate biscuits, selection boxes, chocolates, sponge puddings and custard.
Please choose these items rather than advent calendars or Christmas puddings. We are unable to pass on any products containing alcohol. The most helpful way to donate food is to choose items from our shortages list below. Our warehouse in Lockwood will be open until Christmas Eve ready to receive your donations. Alternatively, donations can be made at our supermarket drop-offs.
See below for our shortages.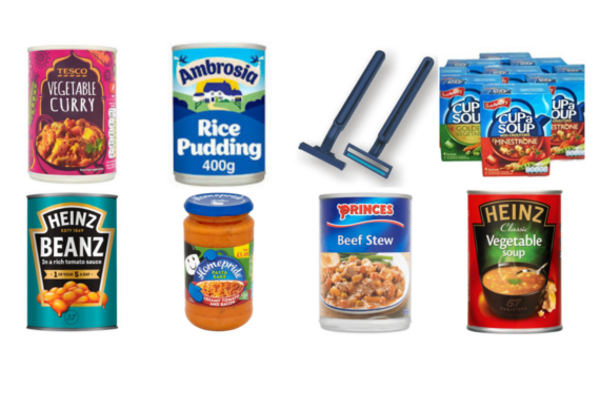 Is the 50p pot appeal running?
We made the tough decision not to run the 50p pot appeal this Christmas. This is an incredibly popular appeal, which raises more than £3,000 each year for The Welcome Centre. However, we've noticed a big change in the number of coins and cash people now use and felt taking part in the Big Give was a better alternative.
You can still donate your £12.50 via our donate button here.
Are you doing a shoebox appeal or giving out toys this year?
Until November 1st, The Welcome Centre was closed to the public and we were delivering our food packs. For the past 18 months, our focus has been on the essentials of food, toiletries and bedding for our clients to ensure they receive the crisis support they need. Although we have reopened, we are now supporting more clients than ever, which means we have less space or time to provide additional items. With this in mind, we have decided that we will no longer be running a toy based shoebox appeal this year or in the future. We will also not be accepting toys to pass on.
Do you need extra volunteers over Christmas?
Christmas is a really busy time of year for us, so it is not a good time for us to take on new, regular volunteers. Luckily, our experienced team of year-round volunteers are all on hand to help out over Christmas.
We do have some one-off dates available, so if your employer gives you a day to make a difference in the community, do get in touch with Emma and we'll see what dates we can offer.
Where and when can I donate?
All donations of food or goods must go to our warehouse or supermarket drop-offs.
You can find our warehouse at Unit 10-11 Queens Mill Industrial Estate, Queens Mill Road, Lockwood HD1 3RR. We're in the same estate as Signs Express.
We'll be open 10.15 - 1.15 Monday to Friday, up to and including Christmas Eve and will reopen on Wednesday 29th December. We are closed on all Bank Holidays.
Our Lord Street offices are closed to the public and we will only be accepting financial donations here.
Financial donations can be made online or in person. In-person donations should be posted through our letterbox at 15 Lord Street, Huddersfield. Please add a note if you would like a follow up with a receipt. To make a donation online or for other payment methods see donate.
---
From The Welcome Centre team, thank you for your continued support in what has been an incredibly challenging year for us all.