Festive facts to help you support The Welcome Centre this Christmas.
If you're planning on helping our food bank in the run up to Christmas, we want to make sure it's as simple as possible for everyone. We've got all the festive facts you need to help you make the best choices on how to support us.
In December last year we supported 779 people including 246 children.
It was our busiest month of 2018 and with client numbers rising again this year it looks like we're set for some exceptionally busy weeks ahead. The winter months are especially hard for clients as budgets are squeezed due to higher heating bills and the additional costs of the festive season. We're always touched by the generosity of people during the festive period, when individuals, families and businesses want to give back to their community. So here's how you can best help.
Frequently asked Christmas questions.
How can I help?
Making a cash donation is the best way to help us and it can be from as little as £1. We have two simple appeals you can get involved with which are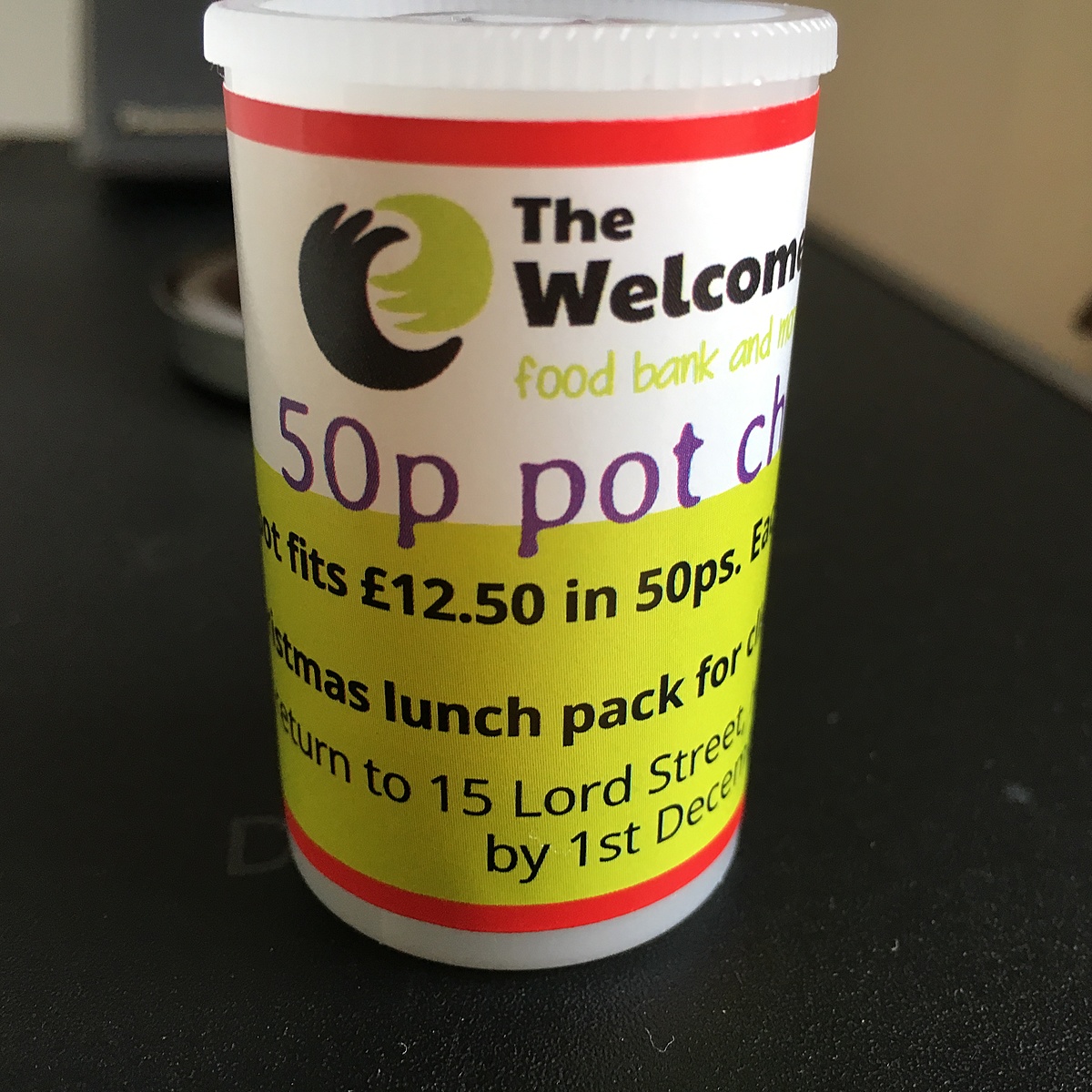 50p pot campaign - this is our 4th year running this simple appeal and it has proved to be hugely popular again. Our aim is to provide all our clients in the run up to Christmas with additional Christmas packs containing all the items needed to make a Christmas lunch at home. Last year we gave out 285 Christmas packs, and with the increase in demand for our food bank in 2019 we expect to give out even more this year. All you need is a 50p pot from us and to fill it up with 50p's totalling £12.50. Full details here.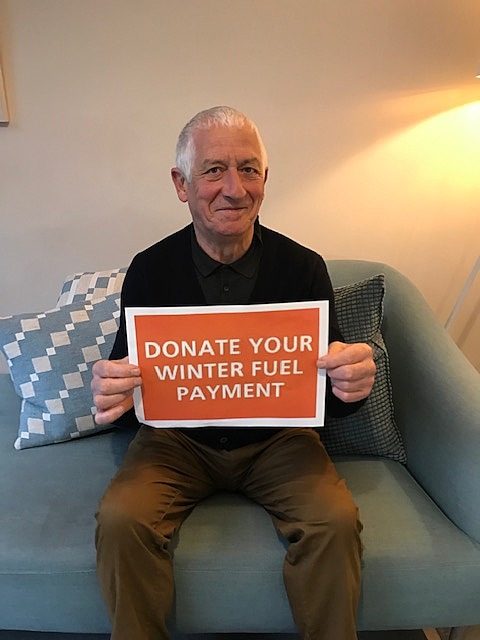 Spread some winter warmth - donate your Winter Fuel Payment and help make a real difference. Full details here.

This is an excellent way for local people to help some of the most vulnerable people in their community. I've passed my payment on, and encourage everybody who can, to do so too.
Michael - Volunteer at The Welcome Centre.
Alternatively you can make a regular or monthly donation via our online giving page here
---
I want to donate food not money.
If you prefer to donate items of food and other goods, then please see our shortages page which cover both our Christmas and regular shortages.
---
Are you doing a shoe box or reverse advent appeal?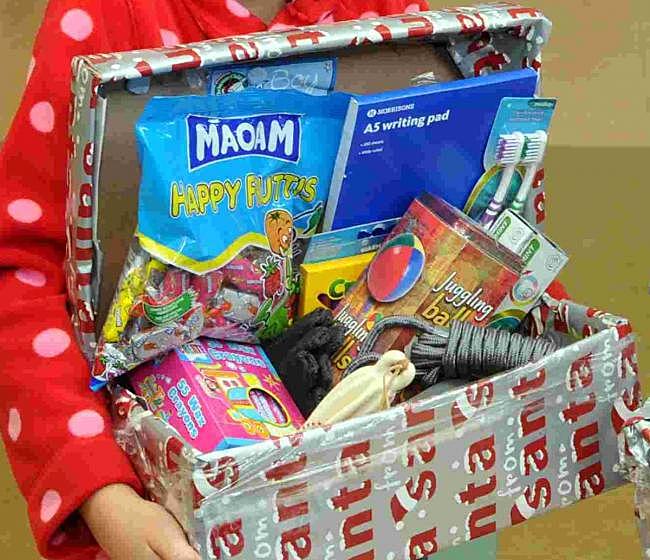 Christmas parcels (shoe boxes)
If your community group or business wants to put together a Christmas Parcel for The Welcome Centre, then there are some important things to know.

We welcome boxes which contain
food and toiletry items, gloves, hats and scarves for men and women.
we can pass on small gifts such as books, stationary items and small gifts or toys.
we cannot accept any used items such as second hand cuddly toys
we cannot accept any alcohol based items including alcohol Christmas puddings or mince pies
The journey of a shoe box – what happens next?
Due to the varied needs of our clients, such as dietary requirements, housing situations, family size etc. parcels and shoe boxes received at the centre are used to support many individuals and families. The shoe boxes received are not handed out as a whole package as we do not have sufficient volunteers or time during our busiest period to sort and check each box is appropriate.
Items donated in boxes will be used towards our general stock over Christmas. All small gift items will be passed on via our main centre to families in need. We hope you understand the challenges we face and why we are unable to hand them out in full.


Reverse Advent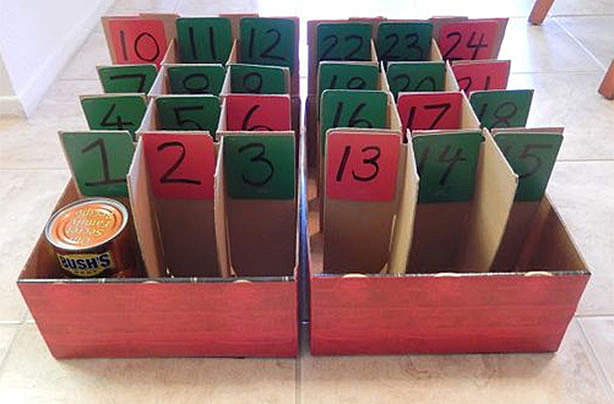 The idea of reverse advent is that you give back rather than receive for each of the 24 days of advent. Each day you choose an item from our regular shortages list or a luxury toiletry item to put into the advent calendar until all 24 days are full. You can download a poster for your collection here.

Please run your reverse advent calendar during November and early December so that all items can be delivered to us by Monday 9th December please. This gives us two weeks to sort the items before we close for Christmas. As per the shoe box appeal, these advent calendars will be used for numerous families and individuals before and after Christmas. Please use our suggested shortages for ideas of what to put in each day.
---
What date are you accepting Christmas donations until?
Any items that are Christmas specific need to be with us by Monday 9th December. This gives us time to get them out to clients before we close on 24th December. Both our Christmas and regular shortages are listed on the website here.
General donations that aren't Christmas specific can be donated right up until 1.15pm on Christmas Eve at our Lockwood warehouse.
---
Where do I donate?
We really need your help here!

Please take all donations (except financial donations) up to and including Christmas Eve to our warehouse which is at Unit 10-11 Queens Mill Industrial Estate, Queens Mill Road, Lockwood, HD1 3RR. Our unit has moved a few doors down, so look for our sign to find us. The warehouse is open Monday to Friday from 10.15am to 1.15pm.

Our Lord Street offices do not have space available to store stock donations, especially during our busiest time of year. We would politely ask that you make every effort to take your donations to our warehouse prior to the 24th December. If you are unable to take your items to the warehouse, or want to donate between Christmas and New Year, we will have limited space and a skeleton staff at Lord Street during this period (see full Christmas opening hours).
If you can't make it during these hours we have numerous drop off points around Huddersfield where you can also donate, which are listed at the bottom of the page here. Or give us a call and we can see if we can open a little longer.
Financial donations can be made online or in person. In person donation should be brought to 15 Lord Street, Huddersfield where a staff member will also give you a receipt. To make a donation online or for other payment methods see donate.
---
What are your opening hours for donations this Christmas?
The warehouse will be open from 10.15am till 1.15pm Monday to Friday up to and including the 24th December.
The warehouse will be closed from 1.15pm 24th December until 10.15am 2nd January.
Our main office will be open at Lord Street until 4.30pm 24th December and will then be as follows
Closed 25/26/27/28/29th December
Open Monday 30th and Tuesday 31st December from 10am till 4pm
Closed New Year's Day Reopen as normal Thursday 2nd January from 10am.
---
Do you need extra volunteers over Christmas?
Christmas is a really busy time of year for us, so it is not a good time for us to take on new volunteers. Luckily, our experienced team of year-round volunteers are all on hand to help out over Christmas; if you're interested in joining our volunteer team you can find out more here.
---
From The Welcome Centre team, thank you for your continued support. You've enabled us to support thousands of people in the last 12 months, and we could not do it without you.