Feeding Families 2019 – End of Project Report
Background
Context
In 2017, 'holiday hunger' emerged as a growing problem nationally. In response to this issue, national initiatives were set up to provide children with access to free food and activities during school holidays. Emergency food aid providers in neighbouring areas of Leeds, Wakefield, and Calderdale quickly began working to address the issue. However, within Kirklees, holiday hunger provision was almost non-existent.
Kids Kitchen Club

The Welcome Centre (TWC) secured funding to partner with a local school in an area of high deprivation to deliver a pilot project called Kids Kitchen Club during the 2018 Easter holiday. Kids Kitchen Club offered children and their families the opportunity to participate in arts and craft, sports, and cookery activities, hosted at their local school. Participants were provided with breakfast, lunch and activities daily, as well as food to take home with them.

Feeding Families 2018

Although Kids Kitchen Club was successful its reach was limited; we were only able to work with one school and to support a relatively small number of families through the project. Therefore, we decided to change our approach to Holiday Hunger during the 2018 summer holidays, so we could help more children.
During summer term we contacted all of the schools in south Kirklees, inviting them to access Holiday Hunger support for their families during the summer holiday, through our Feeding Families Programme. 21 schools confirmed that they would like to take part in Feeding Families. We provided these schools with special vouchers to distribute to families accessing free school meals; the vouchers entitled families to food packs containing breakfasts and lunches for each of their children, for each week of the summer holidays. Families then visited TWC weekly throughout the 6 week holidays, and exchanged their vouchers for weekly food packs. Feeding Families 2018 cost £6,994 to deliver.


Feeding Families 2019

Operational delivery
During summer term 2019, we once again contacted all schools in south Kirklees, and asked them to register for Feeding Families 2019. We allocated each school a maximum number of vouchers to distribute and we allocated each school a designated day of the week on which their vouchers could be redeemed. Our friends at the Huddersfield Mission kindly gave us a dedicated room in their main building from which to run Feeding Families 2019. This dedicated room was big enough to act as a waiting room, storage area, and bag packing area. We appointed a Feeding Families Project Coordinator for the summer. The Project Coordinator oversaw the day to day delivery of the programme, supported by 2 – 3 volunteers each day, including corporate volunteers from our friends at Sainsburys and FMG.
Funding and spending

This year, we set a fundraising target of £15,000 and thanks to the generosity of our supporters we surpassed this, raising a total of £17,000.
We were also lucky enough to receive large donations of food for the programme from our supporters, including corporate donations from Suma and Sainsburys. Our main food supplier for the project, Total Food Services, offered us significant discounts on stock, meaning stock costs were lower than anticipated.
In total, we spent £10,762 delivering Feeding Families 2019. The unspent funds raised through our Feeding Families appeal are restricted to this project, and as such will be rolled over and used towards the cost of next year's holiday provision.
Reach
Feeding Families 2019 provided 1135 packs in total, to local children in need.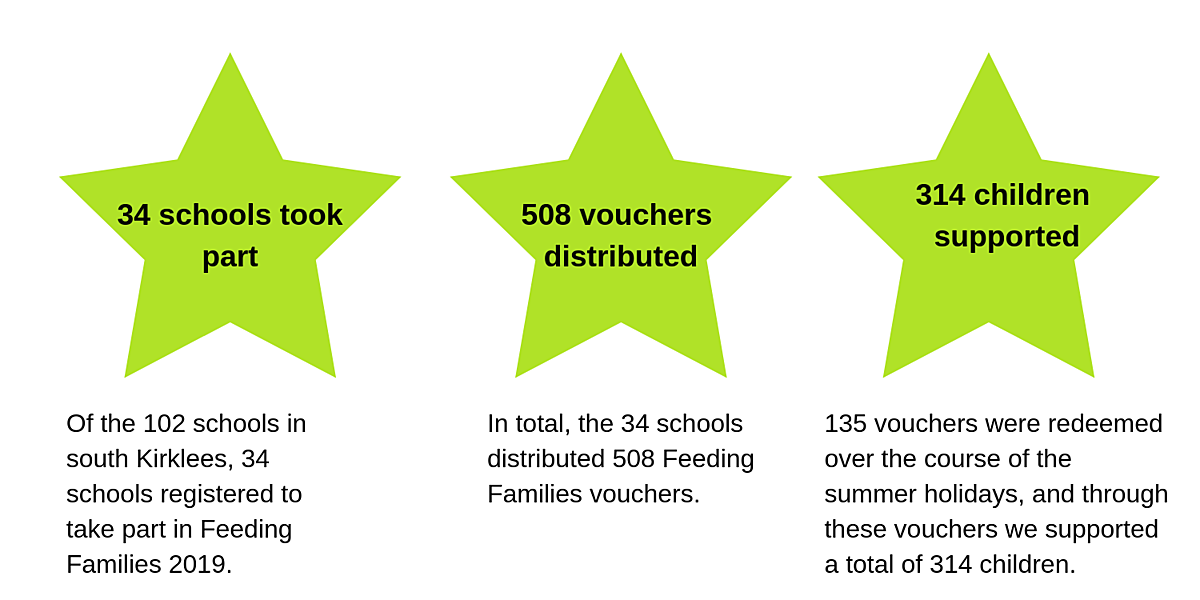 Conclusion
Feeding Families 2019 built on the success of Feeding Families 2018. More schools took part this year,and more children benefited from the programme. Thanks to the generosity of our supporters donating to our Feeding Families Appeal, we raised an amazing £17,000, which allowed us to provide high quality food packs to more than 300 children.


Feeding Families summer 2020
The government will be continuing the Free School Meals voucher system over the summer holidays. This support will be a lifeline for many families in Huddersfield, who would otherwise have struggled.

Now that this provision has been confirmed, The Welcome Centre has taken the decision not to run the Feeding Families programme this summer, as it will thankfully not be needed. Any funding we already have for Feeding Families will be ring fenced for future school holiday provision, when government provision won't be in place.
Anyone who finds themselves in that position can still access food pack support from The Welcome Centre by calling Local Welfare Provision (Kirklees Council) on 01484 414782 to get a referral.
If you're interested in finding out more about Feeding Families, please contact Ellie Coteau for more information.